Alexandre Sacha Pavlata is a fifth-generation Czech circus artist, aerialist and world-renowned circus arts teacher. He was born into Circus Humberto in 1949 and grew up with his circus family in a wooden wagon that crisscrossed the country by train putting on shows. The Pavlatas entertained audiences in countless towns throughout Czechoslovakia, crossing into Europe, Russia and North Africa. They presented their famous unicycle, trampoline and comedy acts under big tops all over the globe. From horses to high wire and everything in between, Sacha has performed nearly every kind of circus act you could imagine.
Read all about it! MSC co-founder Sacha Pavlata featured in 50-plus advocate!
Sacha has been on the faculty of the École Nationale du Cirque in Paris, the Big Apple Circus School, Circus Flora, Center of Creative Arts of St Louis, Sacha's Circus School in Missouri, and now his very own Moody Street Circus. He trained the cast of the original Broadway production of Barnum including Stacy Keach, Jim Dale and Reg Livermore from the Australian production as well as Michael Crawford's London version of the show, and he consulted for Cirque du Soleil for it's first budding season. Sacha trained stars Andre Gower and Nicole Eggert for the 1987 television special "Circus of the Stars." He appeared in the Major Motion Pictures Annie and Big Top Pee Wee.
Sacha (far right) with Pee-Wee Herman
This was sacha's first speaking role in a major motion picture! he thought his accent would be a huge liability but it turned out to be perfect for his role as one of the charming piccolapupula brothers.


Sacha taught at the Conservatoire National du Cirque in Paris from 1975-1979 and performed as a member of the Bertini Unicycle Troupe with Cirque Bouglione, a famous French circus. As a member of the New York City-based Big Apple Circus in the 1980s, Pavlata performed the Cloud Swing and a world class Russian Barre act. He also brought the Bertini family over from Europe to perform in the Big Apple Circus ring. While starring with the Big Apple Circus, he was master teacher for the New York School of Circus Arts. Sacha was also the technical mastermind behind putting up the Big Apple's Big Top tent in Lincoln Center.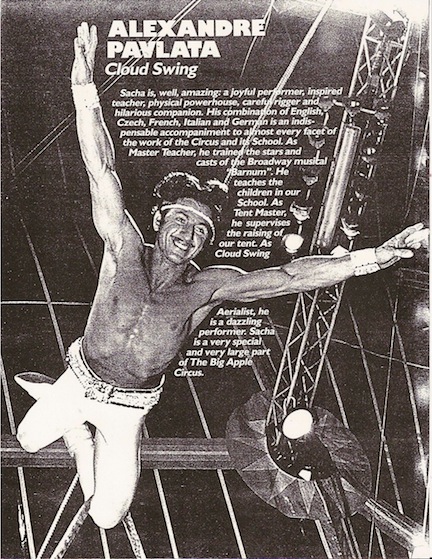 Sacha in the Big Apple Circus
Sacha was a star performer on cloud swing and tent master of the big apple circus in the 1980s. He was responsible for the near impossible task of raising the big apple circus tent at lincoln center the first time it ever went up there. he ran the big apple circus school and trained the award-winning acrobatic troupe the backstreet flyers.

Along with Ivor David Balding and Sheila Jewell, Sacha was a co-founder of Circus Flora and former director and founder of the Circus Flora Circus Arts School.

Together with his wife Melinda, Sacha imported a circus tent in 2005 and they created the Cirque Passion. They produced shows that raised money and awareness for ALS, and in 2009 established Moody Street Circus as a teaching studio base. Sacha and Melinda have performed at festivals, circuses galas and theatrical cabarets worldwide.

Sacha Pavlata was interviewed for a wonderful book by Bill Smoot published by Indiana University Press entitled Conversations with Great Teachers. "In the spirit of Studs Terkel's Working, Bill Smoot interviews master teachers in fields ranging from K-12 and higher education to the arts, trades and professions, sports, and politics. The result suggests a dinner party where the most fascinating teachers in America discuss their views of teaching and what makes their work meaningful to them."

Mr. Smoot asks Mr. Pavlata: "What effect does the two weeks (of circus arts camp) have on the children?"

Sacha's reply:

"Oh gosh. My classes have become so popular because it's challenging for the kids. They like to be challenged... When their parents come to pick them up, they [the kids] want to stay... They are happy, and they have such confidence. We have lunch, and sitting around me, they ask me questions: Where you come from? What have you done? And of course, I give them all the stories, how I grew up - because I'm five generations in the circus world. There is a magical change in them. There is a joy - it's just fantastic."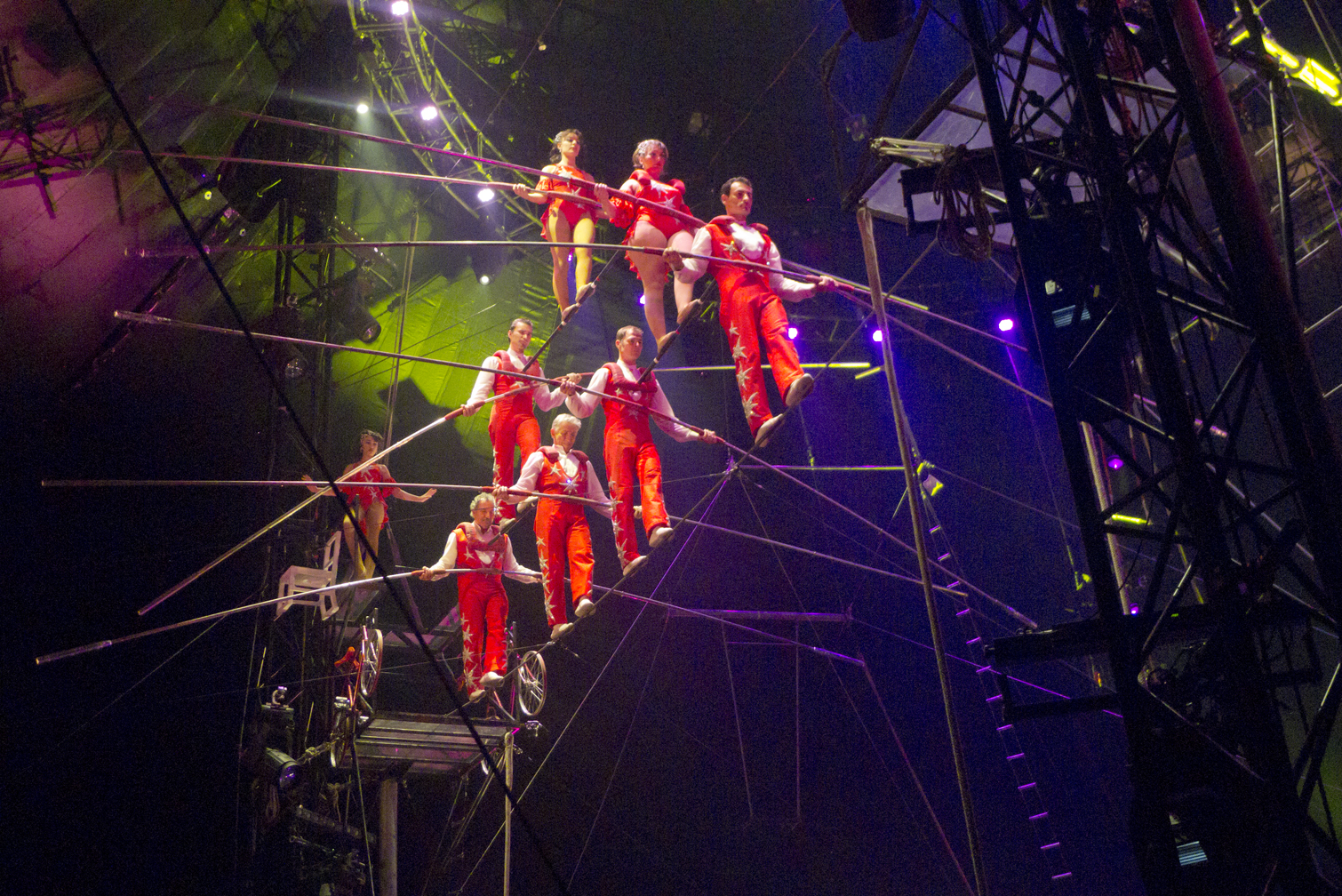 Sacha and the Flying Wallendas
In 1998, Pavlata joined the Flying Wallenda family to help them create their famous seven-person pyramid on the high wire. Sacha has worked with the Wallendas on the high wire around the world ever since. Sacha was part of the Wallenda Troupe when they won the Silver Clown at the prestigious Monte Carlo Festival du Cirque in 2003. He is third man on the base in the photo at left.
Czech Circus Childhood
Sacha's circus heritage goes back 5 generations on both sides. His mother, Hungarian-born Anna Dubsky, came from a long line of Risley Act performers (the acrobatic foot juggling of people), and his father, Czech-born Karl Pavlata, descended from a family of aerialists known for their great physical strength and versatility in the air.

In addition to performing in his family's act as a child, Sacha grew up helping put up and take down circus tents and master all the rigging under a Big Top. His technical expertise on the circus lot is legendary throughout the world, and he is known especially for his careful attention to safety.