Melinda Pavlata, Ph.D. is a 2nd-generation circus and belly dance artist and Director of Moody Street Circus. She grew performing as a child in a family of traveling artists, musicians, dancers and circus entertainers and has raised her daughter Zoë in the same vein. She has performed and taught around the world as a circus artist, aerialist and dancer. In 2018 Melinda was featured as Loren's "BADA** CHICK OF THE WEEK ON the TJ SHOW!
After a colorful & itinerant childhood as a dance and circus artist in the U.S. and in Athens, Greece, as a young adult Melinda sought stability and peaceful refuge in academia. She graduated from Wellesley College magna cum laude with Phi Beta Kappa honors in her junior year. She was awarded a Ben Franklin Fellowship to attend graduate school at the University of Pennsylvania. She earned a DES from the Université de Genève and an MA and PhD in medieval French literature in 1997. She continued to dance, teach acrobatics, and perform in the circus all the while. Melinda received awards for outstanding teaching at UPenn and, after her PhD, went on to work as an adjunct professor of French at Boston College to much student acclaim.
When a beloved family member was diagnosed with Lou Gehrig's disease and given a 3-5 year prognosis, Melinda felt the primal call to formally carry on her family legacy in creative movement arts. She left academia to fully immerse herself in a full-time life of circus and dance. She also became involved in the fight to find a treatment or cure for ALS and was an auxiliary cofounder of the ALS Development Institute with her former husband - and dear friend still - James Heywood.
As a child, Melinda split her time between Berkeley, San Francisco, New York City, and Athens, Greece, performing in circus, theaters and taverns with her parents and her sister Piper. Her mother is the belly dance artist Rhea of Greece. At the age of 7 Melinda would spend half the year was turning cartwheels and making human pyramids in the ring as part of the San Francisco-based Pickle Family Circus (where her father Phil Marsh was music director, and her step-mother Cecil MacKinnon was a juggler and acrobat), and the other half in the ancient city of Athens, balancing a tray of burning candles on her head every night in front of 600 tourists in the context of her mother's Greek taverna shows.

As a pre-teen, she trained in juggling and aerial acrobatic circus skills with master Hovey Burgess in his famous Saturday morning classes at NYU's Tisch School of the Arts. Melinda spent her NYC years competing in gymnastics and passing clubs in her family's "Big Juggle" at Sunday picnics in Central Park, a tradition continued at every Thanksgiving gathering.
Melinda's husbaND sacha Pavlata first trained her as an aerialist in 2004 for circus flora. (photo at left by Harald boerstler of Circus Flora).
they went on to perform this artistic trapeze duet around the world: in singapore, with cirque passion, at the baltimore museum of art, the wallenda family circus in taiwan, amazing grace circus and for redbull's art of the can exhibit in boston. Melinda loved combining the newfound power of her aerial circus muscles with her dance training and went on to create elegant performances on aerial hoop (lyra), aerial fabric (silks), aerial sling and corde lisse.
Melinda has always loved the magic of performing and sees it in a sacred light of community-building and joy-spreading. Because her family moved around so much for their artistic work, Melinda attended 16 different elementary and junior high schools in two countries and three states.
Melinda grew up half-time in greece, and her Greek belly dance stage name is "Melina." she has Taught and performed at theaters, arts centers and circuses around the world, including Singapore's Victoria Theatre, Circus Flora in St Louis, Kripalu Center for Yoga and Health, the Wallenda Family Circus in Taiwan, the Omega Institute & the Baltimore Museum of Art Theatre. She performed at Karoun restaurant for many years until its recent closure. the photo at left is by bruce mount.
Whether she is teaching dance or circus arts, Melinda fosters an inclusive, down-to-earth, friendly and supportive community. She seeks to empower all of her students so that no matter their age, level or ability, they find pleasure in the process of learning and in practicing and improving their skills with positive intention, body awareness and vitality. Melinda currently teaches belly dance, aerial silks, aerial hammock, aerial hoop, static trapeze, flexibility and acrobatics at Moody Street Circus. She also travels to perform or teach special workshops around the world.
Melinda's Sword and Dagger Act
Melinda Melina's renowned sword and dagger balancing dance represents a fusion of the european circus 'point to point' balancing act concept and the belly dance sword balancing tradition. She has performed this unique act around the world for over a decade. The photo at right is by dav rue, taken during a goddess motion performance at the victoria theater in singapore.
Melinda has CARRIED on the family tradition with her daughter since Zoë was born. This mother-daughter Lyra photo by john tremblay is from a tented show melinda produced in 2011 at the veteran's post 440 in nonantum, ma. Zoë has grown up surrounded by circus and dance and now produces shows in her own right.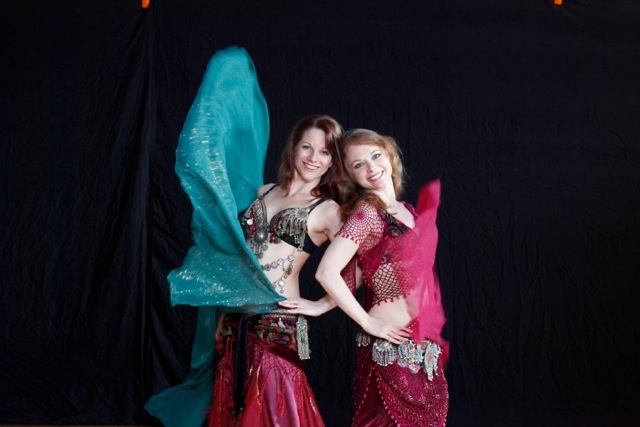 Melinda melina and her sister piper co-founded the daughters of rhea dance company to honor their mother's lifelong career in belly dancE and to continue her legacy in their own ways. They love performing together when they can. This photo by Cheryl Clegg is featured on the cover of the fred elias ensemble cd "elegant music for belly dance."
Melinda in the Media
Melinda's writing has appeared on NPR's Marketplace and her essays on belly dance, economics and motherhood have been published in the Gilded Serpent, the Boston Globe, and Brain, Child magazine. Her scholarly articles on medieval French literature have appeared in the academic literary journal French Forum. She and her family have been profiled in The New Yorker magazine and the documentaries "So Much, So Fast (2006)," "A Magical Life: Circus Flora (2004)" and "Runaway Circus (2011)." She was a featured dance teacher on the MTV television show "Made" and appeared on the reality show "Bridezilla" when she was contracted to dance at a Bridezilla wedding! The bride was actually quite lovely. In 2018, Melinda was featured as Loren's "BADA** CHICK OF THE WEEK ON the TJ SHOW!
Circus Flora & Kripalu
Melinda was a featured circus artist in Circus Flora from 1997 - 2011, where she juggled, danced with elephants and stallions, performed on static trapeze and lyra, and choreographed dances for the production.
Melina was on the faculty at Kripalu Center of Yoga and Health and is invited around the world as 'Melina of Daughters of Rhea to teach her empowering, joyful brand of belly dance.
You can follow her studio on instagram at @moodystreetcircus and her dance life @melinabellydancer.