August 2-3-4 WEEKEND PACKAGE Melina Movement and Belly Dance Immersion Weekend Package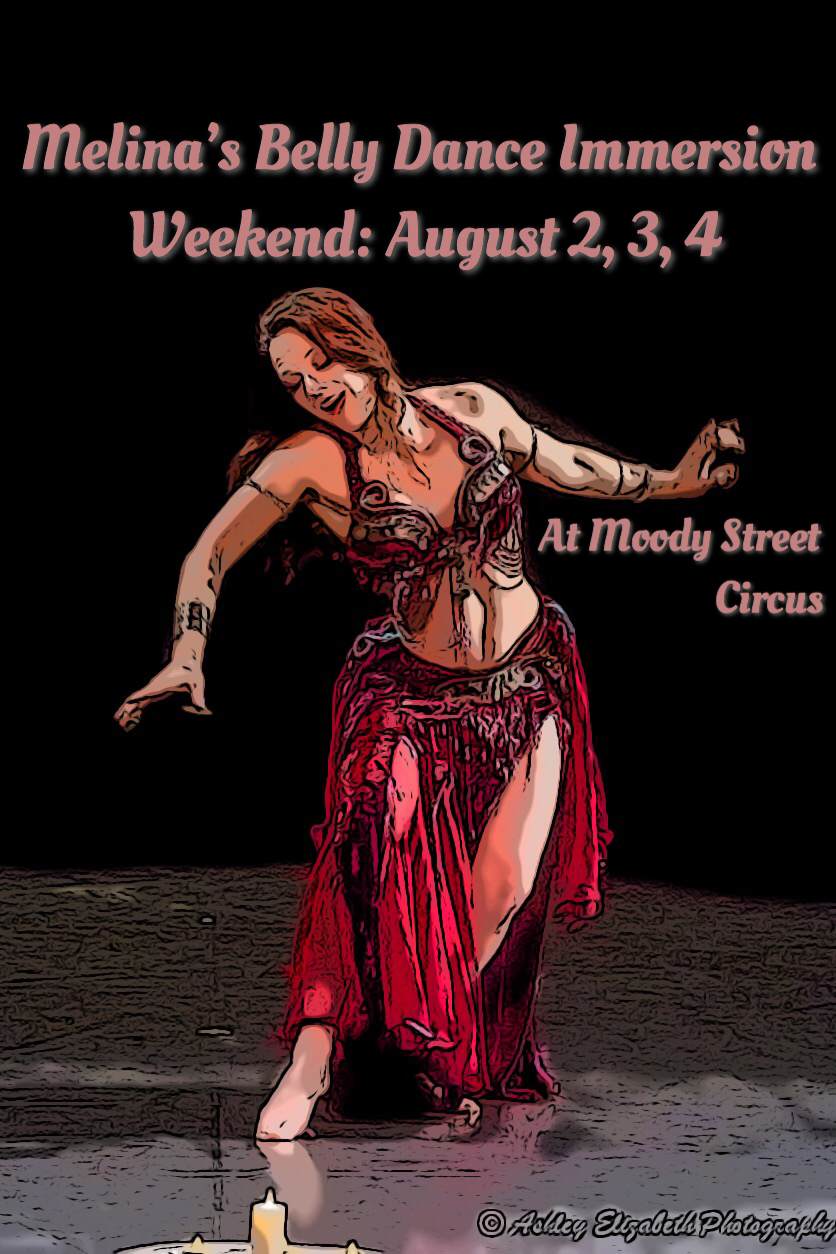 August 2-3-4 WEEKEND PACKAGE Melina Movement and Belly Dance Immersion Weekend Package
Melina's Movement Intensive Weekend Package for adults (ages 16+)
August 2 - 3 - 4, 2019
Full weekend tuition is $300. Non transferable. Only purchase here if you are able to participate in all of the workshops. If not, there are options to purchase each day session individually.
Friday August 2, 2019
Moody Street Circus Taster Class for adults, 7 - 9 p.m.
Dance warm up and stretch, learn to juggle scarves & balls and walk the low wire, practice new skills like balancing on role bola and rolling globe, learn to spin a plate, balance objects on the head, and set your intention for a wonderful weekend of movement immersion.
Saturday August 3, 10 - noon
Energy Flow the Body
Melina's fluid warm up to
Activate body centers

Body isolations & undulations

Joint articulations

Core strengthening

Belly rolls and flutters

Slow work choreography
[LUNCH BREAK noon - 1]
Saturday August 3, 1 - 3:30 p.m.
Shake it Up!
Rhythm and Shimmy practices
Drums, finger cymbals, tambourines & shimmies galore
Saturday early evening - private & semi-private lessons are available in all movement forms that we offer at the studio. These must be booked separately.
Sunday August 4, 10 a.m. - noon
Introduction to aerial sling. Geared to absolute beginners who are afraid of heights. Very low-to-ground aerial sling knot choreography. Think aerial yoga, circus & belly dance style. Relax and safely stretch your limits.
[Break for lunch]
1 - 3:30 p.m.
Melina's Summer Fun 2019 Belly Dance Choreography.
Suitable for all levels. There will be something for everyone and much to love.