Handstands with Joseph Gray 8/30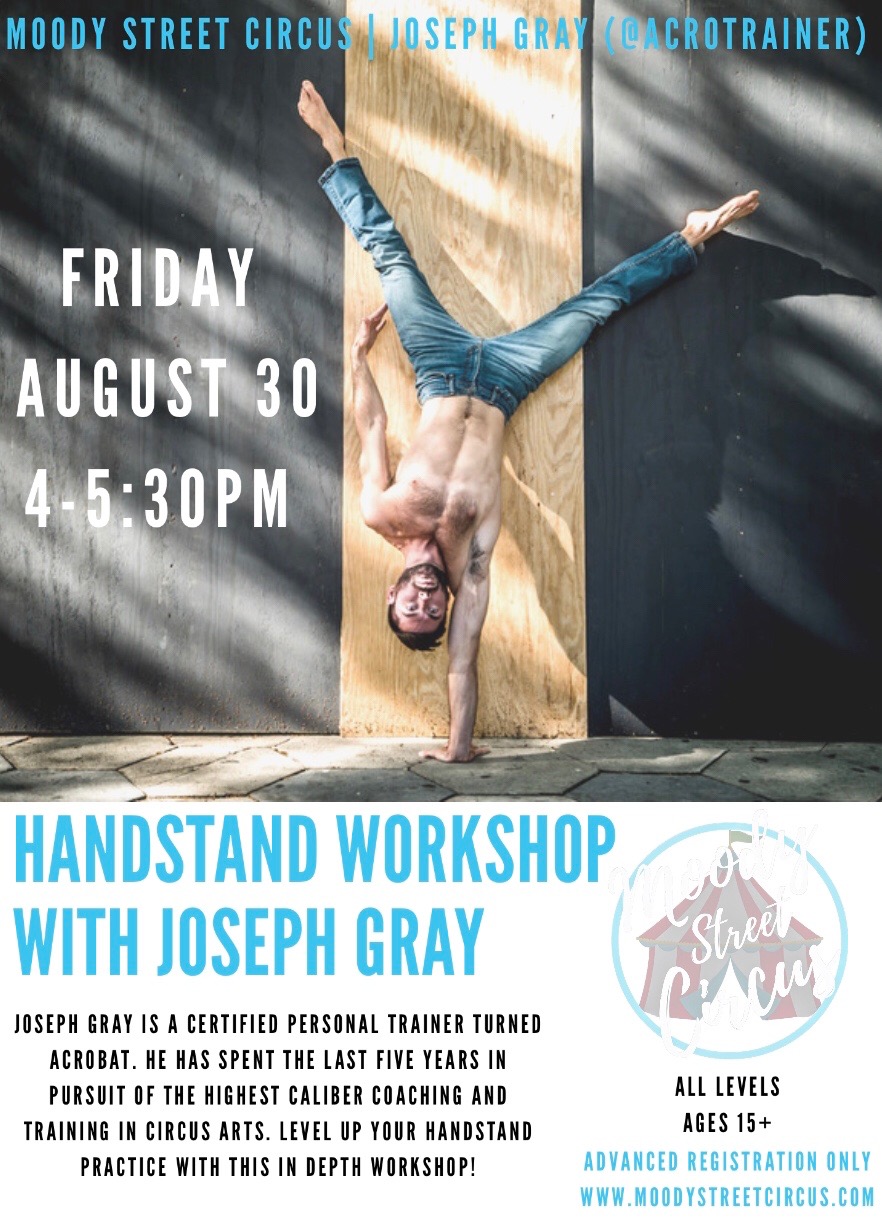 Handstands with Joseph Gray 8/30
Moody Street Circus presents:
Handstands with Joseph Gray
Friday August 30 from 4 - 5:30 p.m.
EARLY BIRD SPECIAL THROUGH AUGUAT 20 : $30
After August 20 price: $37
This workshop will be a blend of theory and practice and will revolve around several different perspectives of world class acrobats and coaches. We will cover basic hand balancing technique including:
1) Physical preparation to aid you in gaining strength and awareness of the body.
2) Proper handstand alignment to encourage correct bone support in order to make your handstand feel (more) effortless.
3) Progressions towards the sensation of balancing on your own in handstands.
4) Proper spotting and safety for free standing handstand practice.
5) How to safely practice free standing on your own.
The intention of this class is not to learn handstands perfectly within an hour and a half. This course is meant to empower those who are looking to feel more comfortable in their inversions and to provide safe and valuable knowledge to continue learning and working towards free standing handstands.
Biography:
Joseph Gray is a certified personal trainer turned acrobat. He has spent the last five years in pursuit of the highest caliber coaching and training in circus arts. His mission is to share what he has learned in as many ways as possible, be it performing or teaching.

Client testimony:
I first met Joseph while he was working with someone at our fitness facility and I was in awe of the beauty and gracefulness of the movement. He asked if I wanted to try it and I was hooked. Joseph is one of those special people that you trust while doing things out of your comfort zone in both the physical and mental aspects. He is encouraging and aware of what your needs are to physically accomplish a move. When I was having trouble, he would change the approach with patience and support. It is obvious that he loves what he does and loves sharing it with people of all levels and I am coming from the very beginner level. Our sessions were prompt, fun and professional. Joseph would record the moves and it was great to be able to watch it on video (and of course show my friends) afterwards! I look forward to working with Joseph again and highly recommend to anyone considering acroyoga.!
--

Joseph Gray, @acrotrainer. http://www.linkedin.com/pub/joseph-gray/69/281/618